AVOCADO HUMMUS
This might be the perfect recipe for those of you that are committed to eating clean but freaked out about the junk food you're about to face at this weekend's Super Bowl party (to be clear- I won't be attending one- nobody in their right mind invites a couple with 5 kids to a Super Bowl Party). This recipe is chalked with healthy fats from the avocado, olive oil, and tahini. The chick peas are one of the highest quality carbohydrates you'll find as well. Real talk- these ARE fats and carbs… the calorie count is a bit higher so if you're actively trying to lose weight- portion size is critical to help you reach your goals and understand your body.
I think a lot of people have the misconception that eating clean will help them lose weight… IT WILL- if you've got extra weight and you are not eating clean- changing your diet to be totally clean will help it melt off. The more junk you eat the more your body will hold on to everything. For those of you only needing to shed 10lbs or so and already eating very clean- your next step is going to look at portion size. This is why using a program like portion fix to train your brain about portion size is invaluable. If you want even better results and longterm health you can add to the portion fix a 30 minute workout, a superfood shake, some accountability, and free coaching from me in my Busy Girl Fitness Challenge group.
If you make this delicious recipe- take a pic and post it to my wall or tag me: FB: fb.com/losingitwithsamandash IG: happy_fit_mom_of_5
Total Time: 10 min.
Prep Time: 10 min.
Cooking Time: None
Yield: 16 servings, about ¼ cup each
Ingredients:
1 (15 oz.) can chickpeas (garbanzo beans), reserve liquid
¼ cup fresh lemon juice
1 Tbsp. extra-virgin olive oil
2 cloves garlic
¼ cup tahini (sesame butter)
Sea salt (or Himalayan salt) and ground black pepper (to taste; optional)
2 medium ripe avocados, cut into chunks
1 dash ground cumin
1 dash paprika
2 Tbsp. finely chopped cilantro (for garnish; optional)
Preparation:
1. Place chickpeas, lemon juice, oil, and garlic in food processor (or blender) and pulse until chickpeas are mashed.
2. Add tahini; pulse for 1 minute. If hummus is too thick, add some of the reserved chickpea liquid. Season with salt and pepper if desired.
3. Add avocados and cumin; pulse until mixture is smooth and creamy.
4. Garnish with cilantro if desired.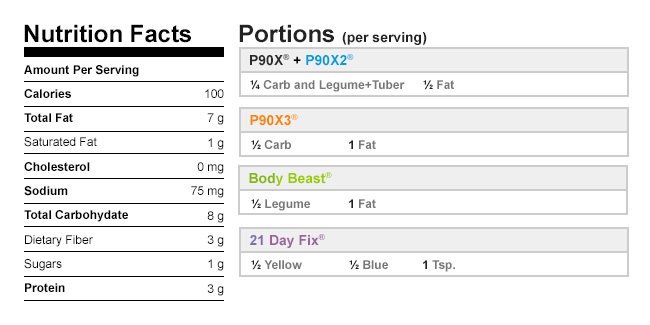 Recipe modified from teambeachbody blog
Thanks for visiting Losing it With Sam & Ash. Our goal is to help others go from lives of just surviving the days and phases to thriving each and every day through personal & spiritual growth, compassion, community, and health. We'd love to hear from you!